Get An Award For Your Racing Website Today















Non-racing websites click here to apply for awards for your website.




Do you have a racing website? Would you like to win one of these awards? Then fill out the form below and send it to me. You must follow these guidelines if you would like one of these awards.


1. Your site must be about auto racing.
2. Your site cannot contain links to any adult sites and/or hate, bias, racial, etc sites.
3. Your site should be up-to-date and contain workable links.
4. Your site should be original and easy to navigate.
5. No "links" only sites. Many people have worked hard on their sites and they deserve the awards. If your site only contains links to other racing sites, please do not submit for an award.
6. It is your responsibility to let me know if you changed your web address if you want your link to stay on my winner's list. Any dead links will be deleted.
7. Please sign my guestbook. I am not making this a requirement. I just like to know who has been here and it's very much appreciated. :)




Award #1



Award #2



Award #3



Award #4



Award #5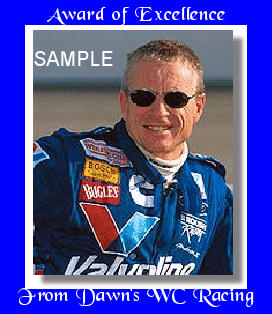 If the above form does not work for you, please send an email with "award" in the subject line along with the above info. After I have checked out your site, I will send you the award. You must save the award to your own computer and upload to your server.




And The Winners Are:


Sean's Bobby Labonte Fan Page
Nascar Nuts Newsletter
Neal's Dale Jarrett Fan Site
Racefan_28 Ricky Rudd Fan Page
Eddie's Nascar Website
Nascar Family Chat



If you have previously won an award and your site is not listed here, (or if you have sinced moved to a new "home") please let me know and I will add your site within a few days.






Copyright 2000 - 2001 by Dawn's NASCAR WC Racing. All Rights Reserved.



NASCAR is a registered trademark of the National Association for Stock Car Auto Racing and their official website is Nascar Online. This site is NOT affiliated with, endorsed by or sponsored by NASCAR, WC, the drivers, teams or their sponsors. This is my own personal website, hosted for free by Fanspace and Angelfire.